Manchester Airport Flight Cancellations and Delays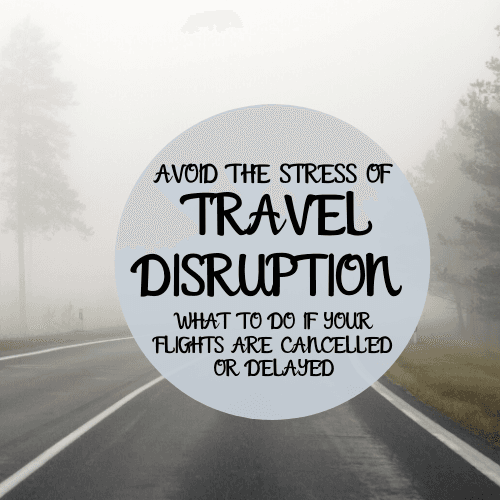 Avoid the stress of Manchester Airport Flight Cancellations & Delays
The UK suffers severe delays to outbound and inbound flights most of the time when snow is predicted. One of the things you can do to make your journey easier is to try to keep the whole experience as stress-free as possible. We have a few tips on how to minimise stress when travelling:
Check flight details with your airline as soon as possible, if your flight is cancelled you may be better off staying at home. You can search for your flight in our online departures and arrivals board.
Keep checking for up to date information about the airport either through Twitter.com or by calling the airline directly you can find all the airline numbers by clicking on the correct airport contact link above.
Try to stay calm, you're in safe hands, the airlines know what they are doing and if your flight has been delayed or cancelled it is for your own safety!
If your flight has been cancelled make sure your airline transfers your flight.
Probably the most important one, leave yourself plenty of time to get to the airport as driving to the airport is probably the most dangerous part of your journey. The main thing is to try to stay calm, the airlines are doing everything they can to get your flight in the air without putting anyone's life in jeopardy. Take a look at our handy hints and tips about preparing for the airport and getting there on time.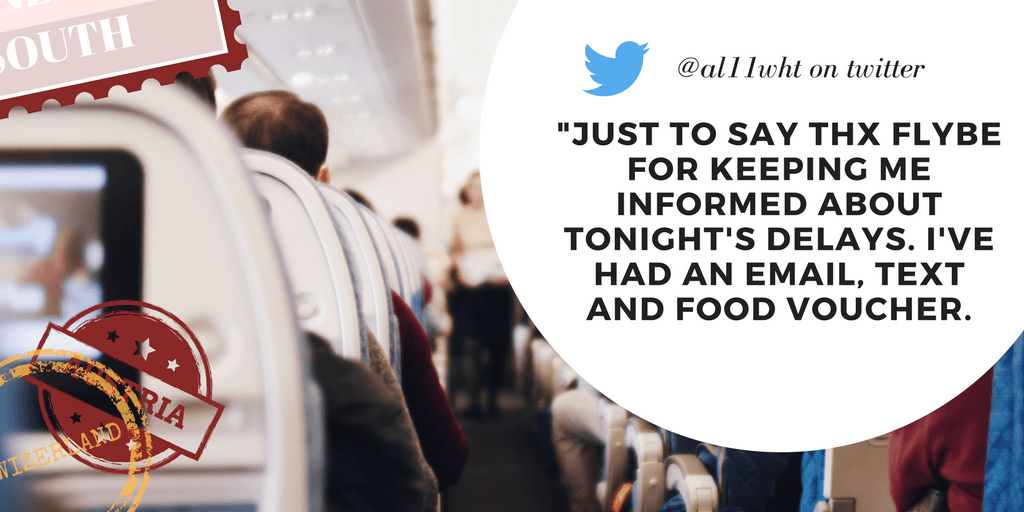 Flight Compensation Calculator
Check out this handy tool that calculates how much compensation you could be due!
Flight Compensation with Colibra
Did you know there's a different way to claim flight delay compensation? Colibra believes you shouldn't have to wait for weeks, if not months, for a payout which is why they can arrange one to be paid to you within 24 hours of landing at your destination.
If your flight has been delayed by more than 1 hour, you will be eligible for €20-€100 back. All you need to do is register and upload your boarding pass before your flight and Colibra will sort the rest. Easy as that!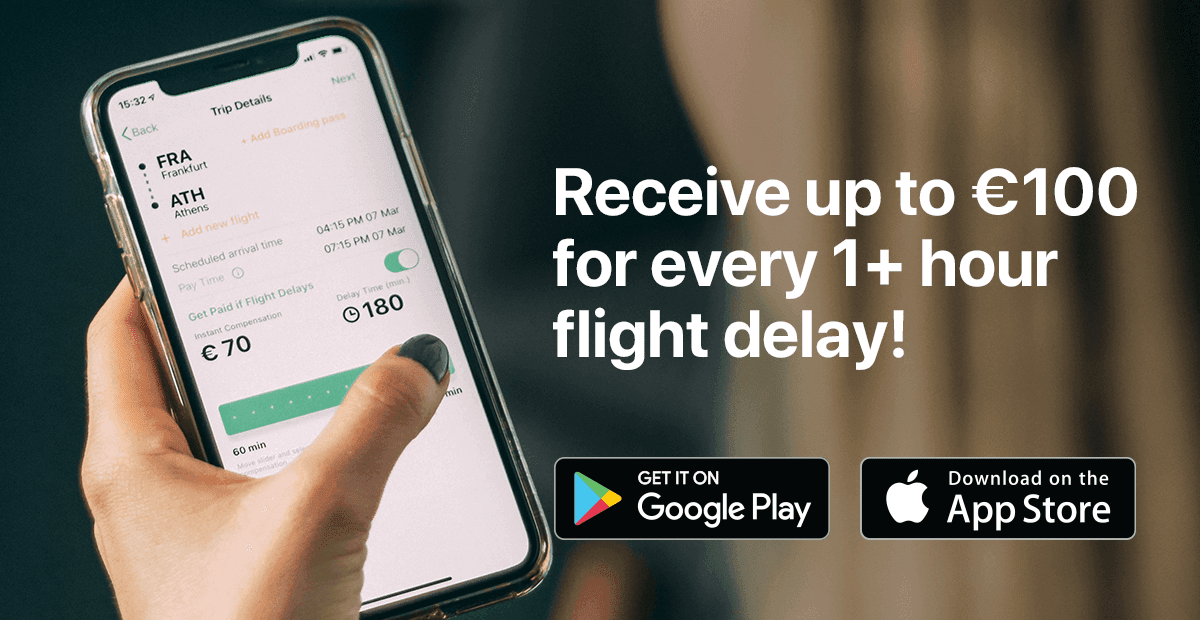 Step by Step on what to do if your flight's delayed
Take a look at what you should do, based on how long your scheduled delays are. Find out more on 1, 2, 5, 9 to 24-hour delays as well as cancellations below.
1 hour
The best thing to do is to wait for your departure. If you're travelling with kids, play some games; if you're travelling for work, most airports have wifi so pick up a coffee and take a seat at your gate and plug in the laptop. You may find the airline lets you sit on your plane before it departs so you can take this time to read the in-flight magazines, listen to music or familiarise yourself with the safety equipment.
Check with your destination transfer companies. Pre-booked airport taxis may follow your flight details and will know your estimated arrival already. If it's a hotel transfer service, it's a good idea to call them and let them know you'll be later than expected.
2 hours
At 2 hours, the airline should provide you with free meals while you wait and accommodation if needed. It's worth contacting your provider as every company is different.
The best advice is to sit tight and keep up to date with departure boards as the specific time may be subject to change.
Grab a bite to eat, revisit duty-free or read a book. You'll be on your way soon.
5 hours
After 5 hours, you can qualify for a refund on your flight so it's worth deciding whether it's worth flying. If you're abroad, it's worth sitting tight for your flight to depart but you may decide otherwise if you're on your outbound journey.
Is your flight is part of a package holiday? Then you'll need to contact your tour operator to deal with refunds and rearranging your flight.
If you decide to wait for your flight, why not play some of our fun airport games, shop in duty-free or pick up some food and drink at one of the many airport bars and restaurants.
9 to 24 hours
You now qualify for a refund so it's your choice whether you want to stay put and wait or ask the airline if you can cancel and refund the trip.
Check your passenger rights on what you can get compensated for - you are not eligible for financial compensation if your flight is delayed but you are entitled to food, refreshments and accommodation if your flight is delayed overnight.
Top tip: Make sure your airline agrees to provide you with accommodation before you book as they can deny excessive expense claims - if possible, it's worth getting verbal and/or written consent (even in an email) as proof.
You can wrap up warm and take a nap in the departure lounge or look into what airport hotels are available and which ones you can get reimbursed for by your airline and remember to keep the receipts.
If you're returning to work but can't make it back in time, it's worth contacting your employer as they're not legally required to pay you for hours you're unable to work because of flight delays.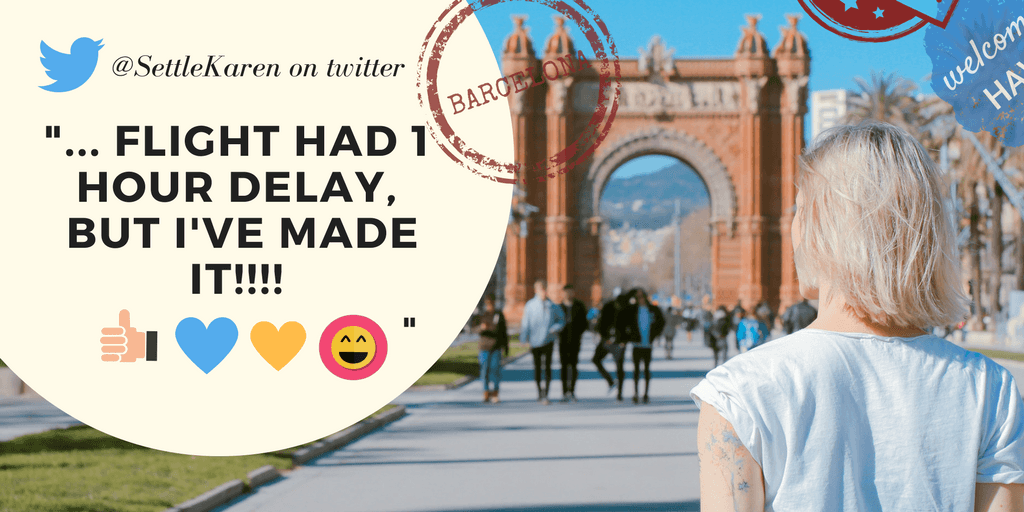 Step by Step on what to do if your flight has been cancelled at Manchester Airport 
Your airline must give you the option of rebooking an alternative flight or requesting a refund. If you're abroad, you'll want to check for alternative flights to get home as quickly and safely as possible.

Find the shortest queue to rebook your flight and call the customer service line while you're queuing up, you may be served on the phone before you reach the end of the queue which will get you on your way faster.

Top tip: if you know you'll have to stay overnight, why not call up a local hotel while you're in the queue as well - when a flight's cancelled, rooms will be snapped up fast!

Getting to the end of the queue: if you don't ask, you won't get so if you're forced to stay overnight, ask if your airline will reimburse you.

If getting an alternative flight is not an option then you should consider alternative modes of transport. For example, you could consider hiring a car and driving to your destination.

Top tip: Some airports rely on train and/or ferry transfers so if you're travelling to a neighbouring country, your airport may offer you a ferry-alternative such as Exeter to the Channel Islands. Or you can look into ways around it yourself. For example, from London to Paris, you could take the Eurostar.

Contact your employer if you're abroad and can't get back to work on time. Your workplace isn't required to pay you if you're not at work due to flight delays but each employer is different to it's worth giving them a call and discussing your options.

If you're still in the UK, it's worth checking the day's traffic from the airport with your airline. If it's been delayed due to extreme weather, none of the airlines may be flying so you might want to stay at home instead.

Getting to Manchester doesn't have to be a wasted trip if you decide not to fly, there is lots to do in and around Manchester with the family.

Read below for advice on what compensation you could receive, how to rebook a new flight, what flight credit is and what your passenger rights are.

Bear in mind that If the flight is cancelled due to reasons out of the airline's control they will not pay for cancellation of your accommodation or cancellation of any other arrangements - this includes the weather. However, if you've taken out travel insurance then you should be able to claim back most of your expenses from them.
For more specialist advice, read our blogs on Special Assistance and travelling with Autism, Traveling with Children.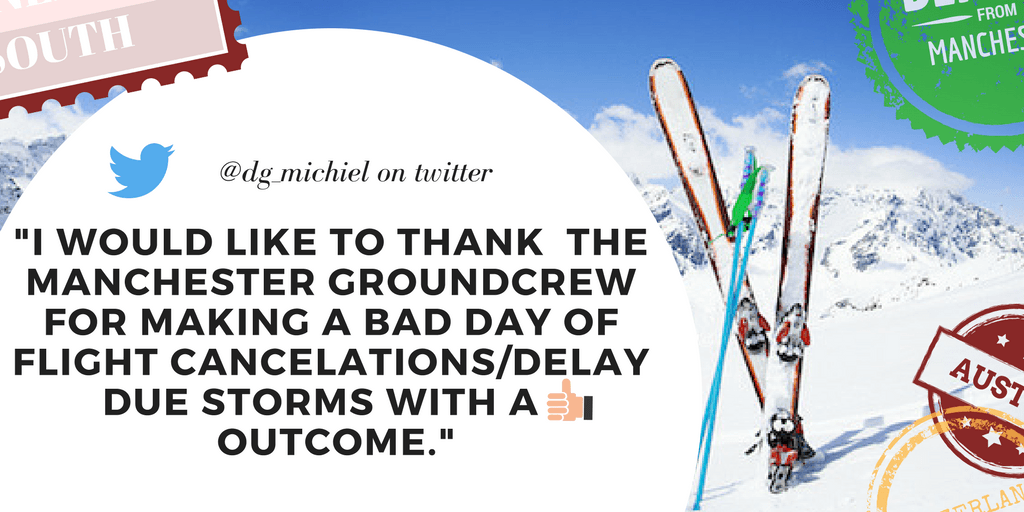 Useful contacts
Here's your handy address book of airlines running from Manchester Airport, available to call if you find yourself in a difficult situation because of delays and/or cancellations.
Bear in mind that if you call an international number or are using your phone abroad, you may be charged extra by your network provider.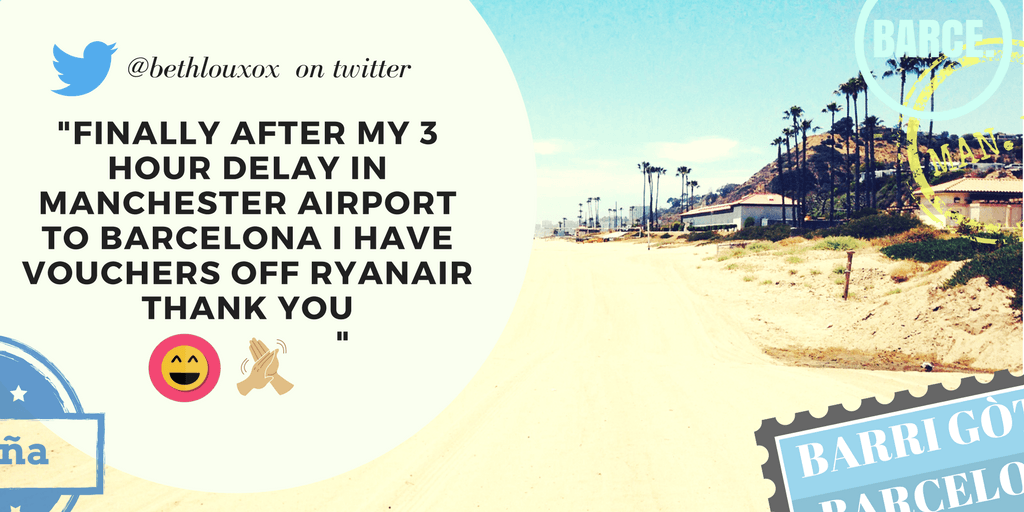 My flight's been cancelled:
What are my passenger rights and what compensation am I entitled to?
You are not eligible for financial compensation if your flight is delayed but you are entitled to food, refreshments and accommodation if your flight is delayed overnight. The airline should also provide you with free communication so you can contact family and friends. Your airline must agree to provide you with accommodation before you book it and they are in their right to deny any excessive expenses claims.
The airline has a legal obligation to provide you with transport to the destination that you booked. It may be that they offer you an alternative, anything from flight credit to offering an alternative flight to a neighbouring airport with transport to your destination via bus or coach.
After 5 hours, you can request a refund or flight credit from your airline. See below for a list of airlines customer service contacts.
If the flight is cancelled due to reasons out of the airline's control they will not pay for cancellation of your accommodation or cancellation of any other arrangements. However, if you have taken out a comprehensive travel insurance policy when you booked your holiday you should be able to claim back most of the expenses incurred from cancelling the holiday from your travel insurance provider.
If you are not eligible for compensation by the airline itself, you may eligible through your travel insurance. All travel insurance policies are different and offer different levels of cover. It is best you contact your insurance provider or read the policy wording document on their website to find out. Before booking emergency accommodation, always get verbal and/or written consent by your provider that they will reimburse you and keep hold of any receipts or you may be left out of pocket later.
If you booked through a package holiday or are late for a cruise from the airline's destination, the best thing to do is contact your tour operator.
What if I can't make it to work tomorrow because my flight was cancelled? Unfortunately, you are not entitled to pay from your employer if you are unable to get to work due to delayed or cancelled flights. It's worth getting in touch with your boss, letting them know about the situation and agreeing on an arrangement with them.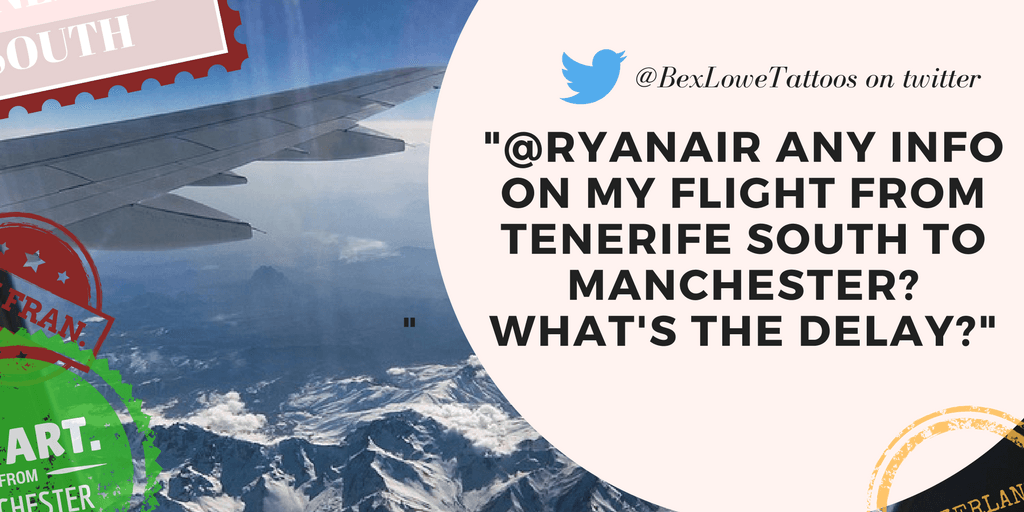 Why does snow disrupt Manchester Airport so much?
Airports are disrupted due to snow because of the additional processes that need to be undertaken to make sure planes are safe to fly. Roads and runways need to be cleared of snow and ice and planes must be de-iced.
A plane must be completely de-iced before it can take off as any ice on the plane affects the aircraft wings and fuselage which makes the planes more difficult to control. In severe cold temperatures planes must take off as soon as they are de-iced to prevent ice from building up again, therefore this causes delays as de-icing cannot be done in advance at the start of the day.
The runways and roads must also be snow and ice-free which the airport usually clears. If the airport is inflicted with heavy snow then the airport may have to be closed while the airport is cleared of all snow. Planes cannot take off when there is any snow on the ground.
Larger airports like Heathrow and Gatwick are more impacted by severe weather than smaller airports as they have so many flights that a delay of a few hours causes a huge backlog of flights.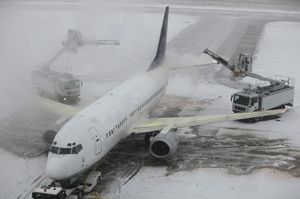 Travelling with children: Entertaining the kids while waiting for your delayed flight
My flight has been cancelled/delayed and I'm travelling with young children, help!
You may not be lucky enough to be stranded at Frankfurt's international airport where four clowns have been hired to perform in the terminals but there are still plenty of ways to keep the kids entertained in the midst of all the chaos and avoid any more stress.
Most major airports will have unsupervised play areas that young children can use as well as there being shops to browse and other amusements throughout the terminal. If you're willing to pay to enter an airport lounge then there will be toys, games, an arcade and magazines available. Take a look at the facilities at Manchester in advance.
You can't go wrong with the classics, a game of "I spy" requires nothing but a keen eye and can be an excellent way of keeping children amused if you need to spend a minute sorting out your travel arrangements.
Through a child's eyes, an airport can look like one big playground. As long as there is supervision letting the kids ride the escalators up and down and play with the trolleys may get rid of the pent up energy they may have accumulated from all the waiting around.
Trouble getting To Manchester Airport?
I need to get to the airport but there are major transport disruptions.
The effects caused by severe weather conditions is not only likely to impact airport flight schedules but can also cause delays and disruptions throughout the major transport networks across the UK. Striking action can also lead to disruptions which although usually localised to certain organisation and locations can still affect your journey.
Unfortunately, this can and does lead to many passengers having a very stressful time getting to the airport, with some failing to make their flight altogether. The key to avoiding these problems however lays simply in planning your journey effectively.
In situations where there is snow and ice drivers are urged to keep plenty of distance between vehicles and drive slowly to ensure they're always completely in control of their vehicle. Trains may also be travelling at slower speeds than usual. Taking the extra time it will take to reach your destination into consideration when planning your journey will help ensure you make it in plenty of time.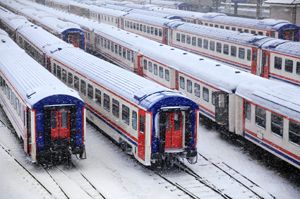 Keeping yourself informed will play a major part in streamlining your journey. Utilise news websites, Twitter and radio so your up-to-date with the latest news regarding your method of transportation which should help you avoid any problematic routes.
There can sometimes be cases where it just won't be possible for you to make your flight, for example, weather that is so severe that it is unsafe for you to travel. In such circumstances where no one is really at fault, you should check your flight's status and speak to your airline as it's more than likely to be affected if the weather conditions are that bad or alternatively look to your travel insurance for compensation.